/

Operations

/

Our history

/

1950s
The 1950s: Stronger holding positions and significant new aquisitions
Demand for industrial products and input components rises sharply in post war Europe. Against this background, Industrivärden strengthens its ownership positions in attractive portfolio companies and carries out new acquisitions in sectors such as forest products, gas and steel. SCA becomes a new portfolio company.
Handelsbanken still had large receivables from SCA, and followed the world market in wood and paper with interest. The US was the biggest exporter of these goods at the time. However, demand outstripped supply, with rising prices as a result. Encouraged by this development, Handelsbanken drove forward the initial public offering of SCA. Industrivärden then sold the subordinated debenture in Bolinder-Munktell to Handelsbanken, acquiring 10% of SCA's stock instead. The company once known as Handion now had its "successor" as shareholder.
In the 1950s, Industrivärden, still with just one employee, was primarily focused on transactions in its existing portfolio companies. Stock dividends increased the holdings in Fagersta, Almedahl-Dalsjöfors and Bergvik och Ala. Exposure to Fagersta and SCA grew repeatedly, while it fell in the case of Ericsson. Ferdinand Wallberg became CEO in 1956, and Ernfrid Browaldh became the new Chairman.
Towards the end of the decade, entirely new holdings joined Industrivärden's portfolio. In 1957, the company acquired shareholdings in AGA AB and Svenska Metallverken. The two companies had been part of Handelsbanken's sphere of interest for a long time. In 1958, Industrivärden expanded in the textiles industry by acquiring stock in Borås Väveri. In 1959, it increased its investment in the construction industry through an issue for non-cash consideration in cement manufacturer Gullhögens Bruk. The Wingårdh family who owned Gullhögens thus became Industrivärden's first major shareholder.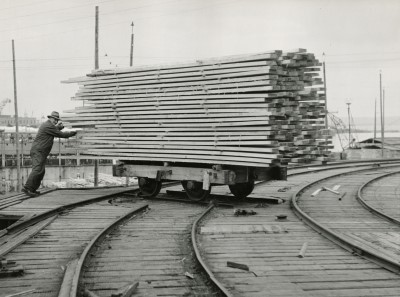 Last update: Apr 20, 2023