/

Operations

/

Sustainability
Our view and influence
Industrivärden's strategy to develop and create value in its portfolio companies over the long term entails a natural focus on sustainability. Sustainable growth in value can only be created in long-term competitive companies that pay close attention to environmental, social and governance aspects. Industrivärden is a responsible owner with high ambitions to participate in the development of sustainable businesses. In this way, it is possible to contribute to sustainable portfolio companies, which benefits the communities in which they operate. This involves minimizing sustainability related risks while capitalizing on sustainability related opportunities in a rapidly changing world.
Industrivärden sets clear demands for its portfolio companies. They are to establish strong market positions, good cash flows and financial strength as well as a distinct capacity for development. This forms a stable foundation for well-integrated sustainability work with innovations, products and services that contribute to sustainable development. By investing capital in operationally and financially sustainable companies and contributing to the portfolio companies' strategic sustainability work, Industrivärden takes responsibility for sustainable development.
Particular focus is put on material sustainability risks and sustainability related opportunities from risk mitigation and value creation perspectives. Industrivärden's overarching ambition is to be a well informed and demanding owner with a sustainability perspective that contributes to the long-term success of its portfolio companies and to offer a long-term and sustainable investment with an attractive total return at balanced risk.
To materialize these ambitions, Industrivärden:
Performs continuous analysis and follow up of the respective portfolio companies in accordance with its integrated sustainability analysis.
Formulates owner agendas for the respective portfolio companies as well as influence initiatives in accordance with its business model.
Conducts dialogues with prioritized stakeholders aimed at soliciting views in support of further development of its sustainability work.
Industrivärden expects the portfolio companies to have a sustainable approach in all aspects of their operations.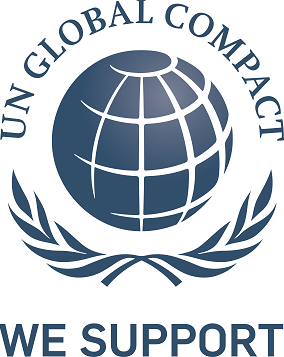 In its sustainability work Industrivärden also adheres to global initiatives such as the OECD's Guidelines for Multinational Enterprises, the ILO's eight fundamental conventions and the UN Guiding Principles on Business and Human Rights. From an influence perspective, the business sector has a central role in creating a sustainable world. Industrivärden is therefore a signatory of the UN Global Compact and has worked since 2015 to promote its ten principles.
To be able to conduct a qualitative analysis of the portfolio companies' sustainability work and exercise influence in sustainability, Industrivärden must have a depth of knowledge about the respective companies' operations and sustainabilityrelated matters. The sustainability analysis is therefore an integral part of the fundamental analysis that is conducted of the respective portfolio companies. In this way, sustainability aspects are addressed from a holistic perspective, with a base in the portfolio companies' respective operations, geographies and stages of development. This means that the sustainability perspective is taken into account in assessments of the portfolio companies' boards and management teams, strategic issues and financial performance.
The individuals who represent or have ties to Industrivärden on the portfolio companies' nominating committees and boards must have a current and thorough understanding of identified value creation measures. Against this background, Industrivärden's owner agendas for the respective portfolio companies are discussed and evaluated on a continuous basis by Industrivärden's board. This allows Industrivärden to exercise influence on strategic sustainability issues over time.
Industrivärden's stakeholder and materiality analysis clearly shows that the Company's most important duty is to contribute to sustainable shareholder value in its portfolio companies. In this work, major emphasis is put on ensuring well integrated and structured sustainability work in the portfolio companies. Central areas are responsible corporate governance and a sustainable societal role, minimized negative climate and environmental impact, and sustainable production and innovation. Based on these focus areas, relevant goals have been established with support of the UN's Agenda 2030 framework for the global Sustainable Development Goals.
Sustainability: Volvo as an example
More and more logistics companies are turning to quiet and emissions free transports to meet the market's high environmental demands and expectations. Here electrification is a key driver in the long-term transition towards achieving zero emission road transports. Volvo Group was one of the first in the industry to begin series production of fully electric trucks in 2019. In 2022 the company was the first to launch series produced trucks in the heavy duty segment. Today Volvo is a leading player in the transformation to electric trucks with a clear goal that 35% of all sold trucks worldwide will be battery electric or fuel cell electric by 2030.
Volvo offers complete transport solutions and has a product offering in the medium to heavy duty truck segment for customers with high demands. The company is the market leader in fully electric heavy duty trucks in Europe and North America, with a market share of 56% in Europe. Demand for electric trucks in the heavy duty segment is growing, and the global potential for electrified truck transports is great. To enable the transition, Volvo has taken an active role in driving development of the charging infrastructure. Together with a number of other major truck manufacturers, through a newly started joint venture company Volvo has embarked on a plan to install 1,700 charging points throughout Europe to accelerate electrification of heavy duty transports. Within the EU, where approximately 6% of total carbon emissions come from goods transports, electrified logistics solutions are a decisive factor in the ability to achieve the EU goal of a climate neutral economy by 2050.
Important steps in 2022 for electric transports
During the year Volvo accelerated its work on electrifying its products, and several strategically important steps were taken in a number of areas. For example, in May 2022 a battery assembly plant was opened in Ghent, Belgium, and in August the company communicated that it had initiated a process to establish a large-scale production plant for battery cells in Mariestad, Sweden. In September, series production of the heavy duty model line for the European market was started in Gothenburg, Sweden.
In addition to battery electric trucks and trucks with internal combustion engines that run on biofuel, Volvo is investing in a third technology for CO2-neutral transports: hydrogen gasfueled trucks, where the only emission is of pure water vapor. In 2022 a prototype truck was unveiled with fuel cells that generate electricity onboard with the help of compressed hydrogen gas stored in tanks. Hydrogen gaspowered trucks are expected to play an important role in the heavy duty and long haul transport segments. The technology is under development, and Volvo plans to launch its first truck during the second half of this decade.
Volvo's leading position in CO2-neutral transports is reflected in sales of the company's products. Among other things, in 2022 the company won an order for more than 100 Volvo VNR Electric trucks from the global logistics company Maersk. The deal complements a previous order for the same model, and all of the trucks are planned to be in operation during the first quarter of 2023. The deal represents the largest single sale of Volvo's electric trucks to date.
Another example is an order from Amazon in October 2022 for 20 fully electric heavy duty trucks for delivery in late 2022/early 2023. These deals illustrate how Volvo is working together with key players in the transport sector's transition to reduce carbon emissions.
In 2022 Volvo increased its deliveries of fully electric vehicles by 226% compared with the preceding year.
From a commercial perspective, the changeover from traditional to electric drivelines represents a deeper engagement by Volvo in its customers' businesses over the entire lifecycle. The higher retail value of electric trucks is therefore expected to accelerate sales growth as the company moves through its technology shift.
Sights set on future zero emissions
Even today, owing to the high cargo capacity, powerful drivelines and longer ranges of the new fully electric trucks, Volvo's product line of fully electric trucks could cover approximately 45% of all goods transports in Europe. In other words, the opportunities are enormous.
Volvo has high aspirations and a proven ability to reduce the climate impact of its products, with the goal of achieving net zero emissions by 2050 at the latest. This creates good conditions to take a continued leading role in the transformation to sustainable transport solutions. More in-depth information can be found in Volvo's sustainability report.
Last update: May 8, 2023