/

Operations

/

Our history

/

2000s
The 2000s: Continued refinement and developed shareholder strategy
Globalization of the capital market and mounting competition drive towards specialization. Industrivärden focuses on its area of strength: active ownership in large, listed companies. The portfolio is refined through the sale of the remaining subsidiaries. Industrivärden further develops its ownership strategy.
Industrivärden therefore further refined its operations at the start of the millennium towards even more active ownership in a transparent portfolio of large and medium sized Nordic listed companies. There was an emphasis on long termism, and the methods of shareholder involvement were refined.
At the start of the 2000s, Industrivärden's equities portfolio consisted of large shareholdings in six listed companies (Ericsson, Sandvik, Skanska, Handelsbanken, SSAB and SCA), a medium term equities portfolio (including Skandia and Lundbeck A/S), two remaining wholly owned industrial companies (Besam and Isaberg Rapid) and the industrial trading company Indutrade.
In 2001, Anders Nyrén became the new CEO, with the task of refining the portfolio and turning Industrivärden into a dedicated investment company. In 2002, Tom Hedelius became Chairman after having been on the Board of Industrivärden since 1991. Hedelius was succeeded in 2010 by Sverker Martin-Löf, who was on the Board in 1996-1997 and from 2002.
In the first half of the 2000s, Industrivärden's medium term portfolio of listed companies, in which insurance company Skandia was by far the biggest holding, was wound up. Skandia became a holding in 1967, but the position had been dramatically increased since the 1990s and had grown strongly in value. At the end of the 2000s, Industrivärden was Skandia's second largest shareholder. As Industrivärden primarily saw the shares as a liquidity investment, it had not tried to join the Board, and during Skandia's difficult years in the early 2000s, it discovered that the company's governance was poor. The holding was sold in the end for a significant loss.
Industrivärden had also built up a position in Danish pharmaceutical company Lundbeck, which was also sold, although with a significant gain this time. The two remaining industrial companies (Besam and Isaberg Rapid) were also sold for a good profit. In the mid-2000s, Industrivärden increased its shareholdings in Handelsbanken and Sandvik, and started to build up a large shareholding in Volvo, which thus returned to the portfolio after having been there previously for twenty years from 1968. At the end of 2005, Industrivärden decided to list Indutrade but remained the biggest shareholder.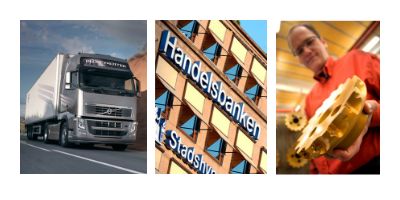 During the decade, significant investments were also made in medium sized listed companies Össur (medical devices), Munters (air handling) and Höganäs (metal powder), all of which were very good investments. Industrivärden also participated in new share issues in Ericsson and SSAB. These new share issues meant that Ericsson could be saved in a difficult market situation, and SSAB was able to enhance its position in high-strength steel through the acquisition of US company IPSCO.
In the first half of the decade, Industrivärden built up short trading operations focusing on derivative transactions. These operations were wound up in the second half of the 2010s.
Last update: Apr 20, 2023