/

Operations

/

Our history

/

1980s
The 1980s: The portfolio of listed companies is concentrated and a wholly-owned industrial business is built up
The active ownership model is developed, and in pace with this the equities portfolio is strongly concentrated at the same time that the unlisted holdings are gathered into a wholly owned industrial and real estate business.
In the early 1980s, Industrivärden's Board decided that the company would be developed into a mixed investment company. It would have a balance between selected listed holdings and wholly owned subsidiaries. As a result, around thirty holdings in listed companies needed to be reduced to a much more manageable number in which Industrivärden could also exercise clear shareholder responsibility.
Kjell Brändström, the new CEO, adopted the new strategy and the 1980s thus saw a large number of transactions for Industrivärden. In 1980, this was illustrated directly in a refinement of the AGA group. AGA hived off parts of its operations to AB Pharos to become a dedicated gas company.
In the construction industry, Industrivärden listed its wholly owned construction company JM. Construction company Skanska bought JM stock from Industrivärden in exchange for newly issued shares in Skanska equivalent to 8% of the voting rights. Skanska is still a holding in Industrivärden's portfolio, and since 1998 Industrivärden has been the largest shareholder in the company.
Investment company and industrial group Nils Dacke AB, with operations including industrial trade, hydraulics and transportation systems, became a wholly owned subsidiary. In 1986, just under 50% of the voting rights in Nils Dacke were acquired from Volvo and the remaining shares were acquired in 1990. The company's industrial trade operations were spun off into a subsidiary, Indutrade. Parallel to this, Industrivärden also created the Inductus group for its wholly owned smaller industrial companies.
In the late 1980s, Swedish equities trading was colored by the Fermenta affair. Biotech company Fermenta had gone from success to ruin, and Industrivärden was forced to take over shares that the former principal shareholder had pledged, thus becoming the principal shareholder of Fermenta. In collaboration with a banking consortium including Gotabanken, Industrivärden drove through a reconstruction of the troubled company. This warded off a severe crisis.
Although Industrivärden's involvement in Fermenta did not fully end until 1993, the 1988 annual report saw light at the end of the tunnel: "the reconstruction of the company is a very clear example of what Industrivärden can do as an active large shareholder".
Industrivärden was an equally active shareholder of packaging company PLM in 1988. The company had been in the portfolio for many years and it now needed major restructuring. After a rapid deal, PLM became a wholly owned subsidiary of the Industrivärden group. It was the biggest transaction ever completed by a Swedish investment company. A year later, PLM sold its subsidiary PLM Sellbergs to concentrate on consumer packaging, its primary area of operation.
Investment AB Bahco had developed out of Investment AB Promotion, which Industrivärden created in the 1970s, with Industrivärden remaining the dominant shareholder. Bahco's CEO, Carl-Erik Feinsilber, joined the Industrivärden Board towards the end of the decade, and Bo Rydin from SCA became the new Chairman. Industrivärden's principal shareholder was now Ratos, and in 1989 Ratos' CEO, Sven Söderberg, joined the Board. At the same time, Carl-Erik Feinsilber became CEO of Industrivärden.
The strategy established by the Board in the early 1980s had been implemented by the end of the decade, and in 1989 the portfolio consisted of just ten holdings. Industrivärden had specific shareholder responsibility in six of these. Listed stock accounted for just over half of Industrivärden's asset value. Real estate company Fundament was a wholly owned subsidiary, and Industrivärden had now also built a wholly owned industrial business consisting of PLM, Inductus and Indutrade.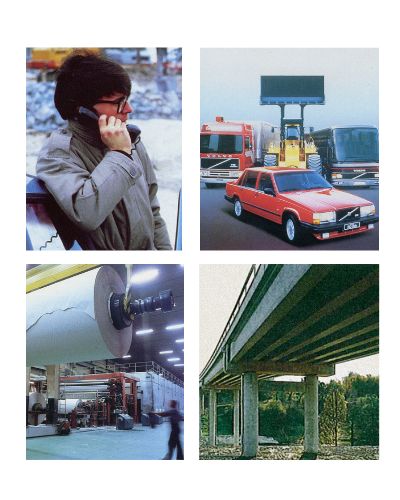 Last update: Apr 20, 2023