/

Operations

/

Our history

/

1940s
The 1940s: Industrivärden is founded with eight portfolio companies and listed on the stock exchange
Industrivärden is founded in 1944 by Handelsbanken to manage the shareholdings taken over by the bank during the economic crisis in the 1920s and '30s. The equities portfolio consists of eight companies active primarily in forestry, power generation, textiles, steel and telecommunications (through Ericsson). In 1945 the Company is listed on the stock exchange and its shares are distributed to Handelsbanken's shareholders.
A statutory meeting was held on January 15, 1944, and the company was registered on February 21. Industrivärden was formed as a sound company with 2,500 preferred shares and 250,000 ordinary shares. Helmer Stén was Chairman and Sture Ödmark was CEO. The fundamental assets were holdings in eight companies at a book value of SEK 44 million: forestry company Bergvik och Ala, hydropower company Hammarforsen (both of which were hived off from SCA when the parent company was reconstructed), steel company Fagersta, Telefonaktiebolaget L M Ericsson, textiles company Almedahl-Dalsjöfors, textiles company Kilsund and portfolio management companies AB Hindus and AB Regia. A subordinated debenture for SEK 5 million in engineering company Bolinder-Munktell was also included.
The next year, Handelsbanken listed Industrivärden on the Stockholm Stock Exchange. The bank's shareholders were offered the opportunity to subscribe for one ordinary share in Industrivärden for every four ordinary shares in the bank. In the first few years, the company had just one employee, its CEO, and ownership was exercised primarily by the directors.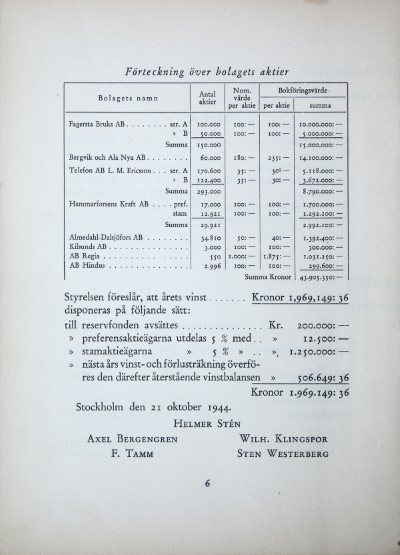 Last update: Apr 20, 2023