History exhibition
On this page Industrivärden gives a short brief and easily accessible description of our history. Click on the links below to get to the section you want to read, or scroll down on this page.
Svenska Handelsbanken lays the foundations for Industrivärden
The 1940s: Industrivärden is founded with eight portfolio companies and is listed on the stock exchange
The 1950s: Stronger holding positions and significant new acquisitions
The 1960s: Portfolio differentiation with a focus on engineering and construction companies
The 1970s: Industrivärden starts to become a more active shareholder, focusing on structural measures
The 1980s: The portfolio of listed companies is concentrated and a wholly-owned industrial business is built up
The 1990s: Consolidation of the industrial business and a number of major equity transactions
The 2000s: Continued refinement and a developed shareholder strategy
2010-2015: Portfolio changes and higher borrowing
2015-2019: Stronger asset management focus and greater financial flexibility
The Future
Svenska Handelsbanken lays the foundation of Industrivärden
In the late 19th century, when Sweden introduced free enterprise, the commercial banks became key players in the journey towards a modern industrialized country. Business owners turned to the banks for loans for newproducts, business concepts or to restructure old industrial companies. Svenska Handelsbanken emerged in this environment. The bank assessed and granted loans to storekeepers, entrepreneurs and factory owners.
They often accepted equities as collateral, resulting in the bank acquiring holdings in many companies over time. The bank's employees also occasionally bought shares themselves, in a private capacity. For instance, in the early 20th century, CEO Louis Fraenkel and Chairman Arvid Lindman acquired shares from Lars Magnus Ericsson, who wanted to sell his shares in Telefonaktiebolaget L M Ericsson, which he had founded. Or in the winter 1912, when a consortium of Handelsbanken men became majority shareholders in AB Gasaccumulator (AGA) when the company needed a financial boost. AGA's CEO Gustaf Dalén was awarded the Nobel Prize in physics for his epoch-making inventions in the same year. Although the bank's own direct ownership may have been limited at that time, both Ericsson and AGA were to become important holdings for Industrivärden – and Industrivärden still has a significant interest in Ericsson.
The regulations for banks' ownership of stock and interest in companies have been changed on numerous occasions over the years. The rules that applied in the 1910s forced Handelsbanken to create a separate investment company with the specific task of owning and managing stock. Handion AB was its name and the bank used it to phase out its occasionally very large shareholdings in various companies.
In the 1920s, which were marked by the aftershocks of the Russian Revolution, a fall in monetary value and plummeting export revenue, Handelsbanken was able to remain on an even keel. The bank's holdings in companies continued to be held by Handion, which now had significant shareholdings in companies we know today (some under different names), such as L M Ericsson, Sandvikens Jernverk (Sandvik), ASEA (ABB), Trafik AB Grängesberg-Oxelösund (Gränges), AGA, AB Separator (Alfa Laval) and Svenska Kullagerfabriken (SKF).
In 1926, Ernfrid Browaldh became involved with the bank. He subsequently became Deputy CEO, CEO and Vice Chairman of the bank. Initially, however, he concentrated on developing Handion. Among other things, Handelsbanken initiated significant restructuring of the crisis-struck ironworks Fagersta Bruks AB. The bank held a major shareholding that could not be sold without considerable losses. Instead, Handelsbanken transformed Fagersta into the parent of a group of iron and steel companies. The group remained in Handelsbanken's portfolio up to 1943, when it conducted an initial public offering (in 1947, Fagersta would become a subsidiary of Industrivärden).
Handion's other debt-ridden corporate holdings included several in the forestry industry. The industry was small-scale, financially weak and marked by devastating competition. In 1929, financier Ivar Kreuger agreed with Handelsbanken's CEO, Helmer Stén, to consolidate the Swedish sawmill and cellulose industry. As a consequence, the bank moved the holdings in Handion with no link to forestry to other subsidiaries. Handion was then transformed into the holding company Svenska Cellulosa AB, or SCA, as we still know it today. This combined around ten lumber companies, including Bergvik och Ala. The share capital of SEK 1 million was increased to SEK 50 million, and AB Kreuger & Toll took the entire new issue against a loan from Handelsbanken. Kreuger was to receive a full right of disposal to the shares when the entire loan was repaid. Handelsbanken filled the position of Chairman of SCA with its CEO, Helmer Stén, and Ernfrid Browaldh became a director. However, the global depression of the 1930s resulted in
SCA failing to achieve its expected growth despite major investments and more and more capital. Kreuger & Toll's credit-based holding became worthless. With SEK 90 million in receivables, Handelsbanken controlled the forestry giant in practice after the collapse of the Kreuger group, or the Kreuger crash, as it came to be known.
However, new legislation now required banks to divest any shares they received by realizing pledges as soon as possible. Handelsbanken found a buyer in Axel Wenner-Gren, the entrepreneur behind Electrolux, who took over the shares in SCA for SEK 10 million. Although Axel Wenner-Gren was now the principal shareholder of SCA, Handelsbanken was still owed significant sums by the company. The bank's Board wanted to reduce its involvement in SCA and therefore decided in 1943 to establish a holding company (investment company) that could take over the majority of the bank's holdings in companies.
The 1940s: Industrivärden is founded with eight portfolio companies and listed on the stock exchange
In 1944, the investment company Industrivärden was created as a subsidiary of Handelsbanken. The name, which means "industrial values", was chosen in honor of the highly valued holdings in industrial companies that were being transferred to the new company.
A statutory meeting was held on January 15, 1944, and the company was registered on February 21. Industrivärden was formed as a sound company with 2,500 preferred shares and 250,000 ordinary shares. Helmer Stén was Chairman and Sture Ödmark was CEO. The fundamental assets were holdings in eight companies at a book value of SEK 44 million: forestry company Bergvik och Ala, hydropower company Hammarforsen (both of which were hived off from SCA when the parent company was reconstructed), steel company Fagersta, Telefonaktiebolaget L M Ericsson, textiles company Almedahl-Dalsjöfors, textiles company Kilsund and portfolio management companies AB Hindus and AB Regia. A subordinated debenture for SEK 5 million in engineering company Bolinder-Munktell was also included.
The next year, Handelsbanken listed Industrivärden on the Stockholm Stock Exchange. The bank's shareholders were offered the opportunity to subscribe for one ordinary share in Industrivärden for every four ordinary shares in the bank. In the first few years, the company had just one employee, its CEO, and ownership was exercised primarily by the directors.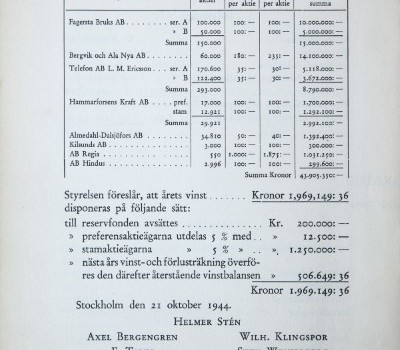 The 1950s: Stronger holding positions and significant new aquisitions
In the post-war era, the wheels began to turn again in Sweden. Industrivärden increased its holdings in several of its portfolio companies. Helmer Stén, who was in many ways key to the creation of Industrivärden, died in summer 1950 and was succeeded by Sten Westerberg. The words written in memory of Helmer stated that: "he placed his sound judgment, extensive experience and unique ability to bring people together and inspire enthusiasm at the unlimited disposal of the company. The company owes a huge debt of gratitude to him."
Handelsbanken still had large receivables from SCA, and followed the world market in wood and paper with interest. The US was the biggest exporter of these goods at the time. However, demand outstripped supply, with rising prices as a result. Encouraged by this development, Handelsbanken drove forward the initial public offering of SCA. Industrivärden then sold the subordinated debenture in Bolinder-Munktell to Handelsbanken, acquiring 10% of SCA's stock instead. The company once known as Handion now had its "successor" as shareholder.
In the 1950s, Industrivärden, still with just one employee, was primarily focused on transactions in its existing portfolio companies. Stock dividends increased the holdings in Fagersta, Almedahl-Dalsjöfors and Bergvik och Ala. Exposure to Fagersta and SCA grew repeatedly, while it fell in the case of Ericsson. Ferdinand Wallberg became CEO in 1956, and Ernfrid Browaldh became the new Chairman.
Towards the end of the decade, entirely new holdings joined Industrivärden's portfolio. In 1957, the company acquired shareholdings in AGA AB and Svenska Metallverken. The two companies had been part of Handelsbanken's sphere of interest for a long time. In 1958, Industrivärden expanded in the textiles industry by acquiring stock in Borås Väveri. In 1959, it increased its investment in the construction industry through an issue for non-cash consideration in cement manufacturer Gullhögens Bruk. The Wingårdh family who owned Gullhögens thus became Industrivärden's first major shareholder.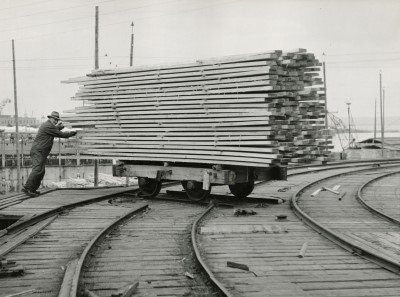 The 1960s: Portfolio differentiation with focus engineering and construction companies
The 1960s were record-breaking years in Sweden. Continuous housing construction drove growth in industries such as the construction and engineering industries. Industrivärden's Board wanted to diversify the portfolio into interesting areas and increased its rate of acquisition. In 1960, the company invested in fast-growing packaging specialist Plåtmanufaktur (PLM), and in 1961 it added a shareholding in ventilation and tool specialist AB Bahco. One of Industrivärden's more prominent holdings in the construction industry was Gullhögen mineralfiber, which was now transformed into Gullfiber AB and performed very favorably.
Stig Ödmark became the new CEO in 1960 and was joined by his first colleague a few years later. At that time, it was already a challenge for unlisted family businesses to convert shares into more realizable assets. For this reason, Handelsbanken and Industrivärden formed Investment AB Promotion in 1962. Promotion acquired a number of family companies and was then listed, which would make it easier for former family owners to sell their shareholdings.
Industrivärden continued to diversify its holdings portfolio, often with companies that had already been included in the extensive portfolio of its predecessor, AB Handion, in the 1920s. These companies had continued to operate close to the sphere of Handelsbanken and now became regular holdings, such as A-betong, Boliden and Husqvarna. Industrivärden also bought stock in its founder company Handelsbanken.
Privately-owned John Mattson Byggnads AB (subsequently JM) was acquired and became a new subsidiary. This was the start of a restructuring process in the construction industry, with Industrivärden quickly acquiring building materials company Olsson & Rosenlund and merging it with other building materials companies in its portfolio. The expanded Olsson & Rosenlund was then merged with John Mattson and Gullfiber to form the new JIMOR group (named after the initial and middle letters of the companies involved). Industrivärden's primary aim with this consolidation was to exploit the company's large land holding under John Mattson.
Other additions to the portfolio in the 1960s were Facit AB, Försäkrings AB Skandia, Pripps Bryggerier, Turitz and Tändsticksaktiebolaget. Through a new subsidiary, AB Delus, stock was also purchased in IBM, General Motors and Gunnebo Bruk.
Although SCA, Fagersta and Ericsson continued to be Industrivärden's biggest holdings in terms of value, the diversification in the late 1960s had gone so far that Industrivärden switched to reporting on its holdings by sector. For example, the forestry industry, engineering industry, electrical industry, construction industry, food industry, iron and metalworks, department stores, investment companies, banks, insurance companies and other companies.
By the end of the 1960s, Industrivärden had also grown in terms of staff. There were now six employees, with Nils Berggren as CEO. The Chairman was Tore Browaldh, son of Ernfrid, who was also Chairman of Handelsbanken, having just left the post as CEO.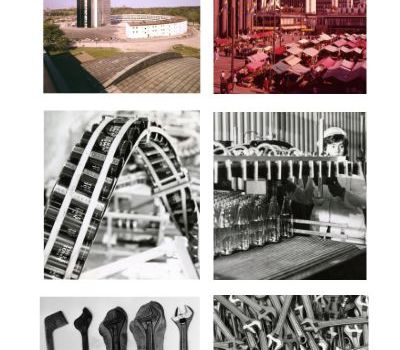 The 1970s: Industrivärden starts to become a more active shareholder, focusing on structural measures
Ever since Industrivärden's creation in 1944, the company had been actively involved in its major shareholdings by holding positions on the companies' boards. In the 1970s, they went a step further and decided that Industrivärden's investment strategy would be based on a clear, long-term responsibility as a shareholder in companies in which it was the dominant shareholder. The strategy also involved Industrivärden participating in structural measures to enhance competitiveness. One example of this was Industrivärden's continued efforts to transform the building materials sector, with transactions involving companies such as Gullhögens Bruk and Förvaltnings AB Handus.
In 1971, Ericsson, SCA, Boliden, PLM, AGA and Grängesberg were otherwise the biggest holdings in the portfolio, which the company continued to diversify. New arrivals included mining giant Atlas Copco, automotive manufacturer Volvo, pharma company Astra, and Alfa Laval, which had been in Handion's portfolio back in 1924.
The early 1970s were marked by great uncertainty about continuing economic performance. Although, for many years, labor costs had increased more in Sweden than in other industrialized countries, they had been counterbalanced by greater productivity. This trend was now reversed. The world economy was also struggling with an oil crisis that caused commodity and fuel prices to rise. This entailed increased Swedish production costs, a weaker ability to compete internationally and thus reduced profitability. Many companies were forced to issue new shares to raise new capital, and Industrivärden strove to participate fully in each share issue. For liquidity reasons, however, it was forced to sell its warrants in AGA, Fagersta and Ericsson.
Industrivärden had reached 16,000 shareholders, but only 200 held more than 1,000 shares. A period of cross ownership between Industrivärden and Beijerinvest now began under the management of financier Anders Wall. Other large shareholders in Industrivärden were insurance companies, pension funds and Investment AB Promotion, the listed company that Industrivärden had created to acquire and develop unlisted family businesses.
On the financial side, Industrivärden broke new ground when it issued the first modern convertible loan in Sweden in 1977.
Despite the crisis years in the 1970s, Industrivärden was able to continue increasing dividends issued every year, a tradition it had had since its start in 1944. This was possible because of its large, differentiated equities portfolio, which distributed the risks, and because of cash flows from its stable, profitable subsidiaries.
What had been a relatively small holding in retail company Åhlén & Holm (now Åhléns) grew during the decade, culminating in Åhléns merging with retail companies NK and Turitz towards the end of the decade. Rune Höglund, who was CEO of both Handelsbanken and Åhléns, and Chairman of the Board of AGA, became CEO of NK/Åhléns in 1977.
In the late 1970s, Industrivärden sold its stock in Fagersta to Kinnevik, marking the end of a long-term holding. This was replaced by a shareholding in Sandvik which was Industrivärden's sixth largest portfolio holding. The sale was made to give Fagersta a new ownership structure, while Industrivärden came to focus on more processed metal products.
Its focus on the construction, building materials and real estate industries remained. Industrivärden now had three large associates there: John Mattson, Olsson & Rosenlund and Gullfiber. This JIMOR group underwent significant restructuring in the early 1980s, resulting in a clearer division of responsibilities with simpler management according to the distinctive nature of each company. The group's real estate management operations became stable and profitable and were among the biggest in Sweden.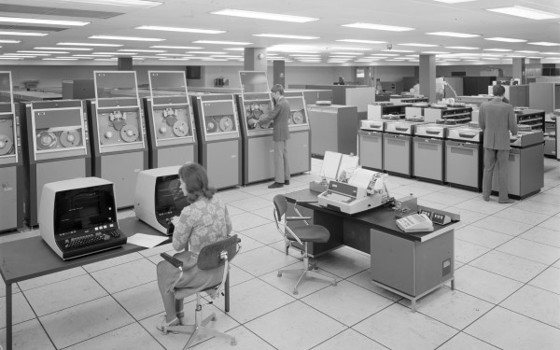 The 1980s: The portfolio of listed companies is concentrated and a wholly-owned industrial business is built up
The 1980s began with a number of major transactions in Sweden. In 1981, Volvo merged with Beijerinvest and became the biggest company in Sweden, with Anders Wall as Board Chairman. A year later, Wall joined the Board of Industrivärden, which was a cross holding with Beijerinvest for a long period of time. Handelsbanken and Industrivärden were also cross holdings, and in 1984 Handelsbanken's CEO Jan Wallander joined the Board.
In the early 1980s, Industrivärden's Board decided that the company would be developed into a mixed investment company. It would have a balance between selected listed holdings and wholly-owned subsidiaries. As a result, around thirty holdings in listed companies needed to be reduced to a much more manageable number in which Industrivärden could also exercise clear shareholder responsibility.
Kjell Brändström, the new CEO, adopted the new strategy and the 1980s thus saw a large number of transactions for Industrivärden. In 1980, this was illustrated directly in a refinement of the AGA group. AGA hived off parts of its operations to AB Pharos to become a dedicated gas company.
In the construction industry, Industrivärden listed its wholly-owned construction company JM. Construction company Skanska bought JM stock from Industrivärden in exchange for newly issued shares in Skanska equivalent to 8% of the voting rights. Skanska is still a holding in Industrivärden's portfolio, and since 1998 Industrivärden has been the largest shareholder in the company.
Investment company and industrial group Nils Dacke AB, with operations including industrial trade, hydraulics and transportation systems, became a wholly-owned subsidiary. In 1986, just under 50% of the voting rights in Nils Dacke were acquired from Volvo and the remaining shares were acquired in 1990. The company's industrial trade operations were spun off into a subsidiary, Indutrade. Parallel to this, Industrivärden also created the Inductus group for its wholly-owned smaller industrial companies.
In the late 1980s, Swedish equities trading was colored by the Fermenta affair. Biotech company Fermenta had gone from success to ruin, and Industrivärden was forced to take over shares that the former principal shareholder had pledged, thus becoming the principal shareholder of Fermenta. In collaboration with a banking consortium including Gotabanken, Industrivärden drove through a reconstruction of the troubled company. This warded off a severe crisis.
Although Industrivärden's involvement in Fermenta did not fully end until 1993, the 1988 annual report saw light at the end of the tunnel: "the reconstruction of the company is a very clear example of what Industrivärden can do as an active large shareholder".
Industrivärden was an equally active shareholder of packaging company PLM in 1988. The company had been in the portfolio for many years and it now needed major restructuring. After a rapid deal, PLM became a wholly-owned subsidiary of the Industrivärden group. It was the biggest transaction ever completed by a Swedish investment company. A year later, PLM sold its subsidiary PLM Sellbergs to concentrate on consumer packaging, its primary area of operation.
Investment AB Bahco had developed out of Investment AB Promotion, which Industrivärden created in the 1970s, with Industrivärden remaining the dominant shareholder. Bahco's CEO, Carl-Erik Feinsilber, joined the Industrivärden Board towards the end of the decade, and Bo Rydin from SCA became the new Chairman. Industrivärden's principal shareholder was now Ratos, and in 1989 Ratos' CEO, Sven Söderberg, joined the Board. At the same time, Carl-Erik Feinsilber became CEO of Industrivärden.
The strategy established by the Board in the early 1980s had been implemented by the end of the decade, and in 1989 the portfolio consisted of just ten holdings. Industrivärden had specific shareholder responsibility in six of these. Listed stock accounted for just over half of Industrivärden's asset value. Real estate company Fundament was a wholly-owned subsidiary, and Industrivärden had now also built a wholly-owned industrial business consisting of PLM, Inductus and Indutrade.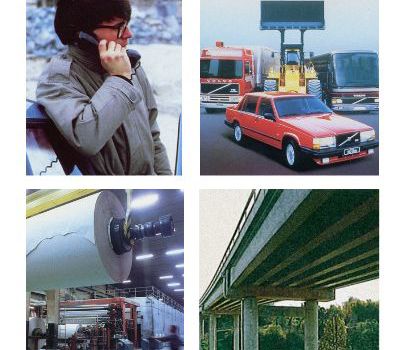 The 1990s: Consolidation of the industrial business and a number of major equity transactions
The 1990s began with an economic crisis. Rapidly rising interest rates caused the stock exchange to fall, triggered in part by the invasion of Kuwait by Iraq. This was followed by a serious recession, rapidly falling real estate prices and a banking crisis. The value of Industrivärden's market portfolio initially fell by 22% before the recovery began.
Financier Erik Penser joined the Board, while Anders Wall left it. In 1994, Clas Reuterskiöld became the new CEO, while Handelsbanken's Chairman Tom Hedelius was elected onto the Board. In terms of operations, the 1990s at Industrivärden were marked by several large transactions in its portfolio of listed companies. Certain long-term holdings were sold, while others were added, acquisitions that remain significant to Industrivärden to this day.
For example, subsidiary PLM was subject to extensive restructuring. Its operations were concentrated on packaging that could be recycled or reused, such as glass packaging or beverage cans. Industrivärden then took the company to the stock exchange in 1995, only to sell its remaining holding to UK-based packaging manufacturer Rexam three years later. Rexam still has extensive operations in Sweden. This ended nearly 40 years of holdings in PLM.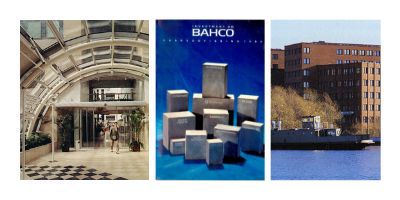 Industrivärden's holding in gas company AGA went even further back in time, all the way to the 1910s, when Handelsbanken invested in AB Gasaccumulator. However, in 1999, after AGA's operations were refined, including divestment of its subsidiary Frigoscandia, the last shareholding was sold. German gas group Linde has been the owner of AGA ever since.
The 1990s also saw two large new acquisitions and one additional purchase in Industrivärden's portfolio. Steel giant SSAB had been created in 1978 to secure the Swedish steel industry, with the Swedish government as principal shareholder (the company included Oxelösund ironworks, in which Industrivärden's predecessor Handion had holdings back in 1924). The government now reduced its involvement and Industrivärden made a large acquisition, becoming the largest shareholder in SSAB.
Industrivärden's other major acquisition came towards the end of the 1990s with a significant shareholding in industrial group Sandvik. For Sandvik, this meant a return to Industrivärden's portfolio after having been in it for a while from 1978 (after the Fagersta transaction with Kinnevik) and way back in the 1920s with Handion.
Industrivärden purchased the Sandvik shares from Skanska, which was concentrating its operations on the construction sector. Industrivärden soon doubled its holding in Skanska and became the new principal shareholder of the construction company.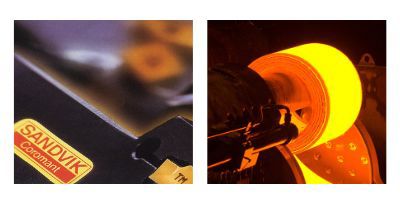 Industrivärden wanted to consolidate the many industrial companies in its portfolio at the start of the 1990s. It therefore acquired the remaining shares in Investment AB Bahco. Along with Nils Dacke's operations, they were moved to Industrivärden's wholly-owned industrial company Inductus. Subsequently, to clarify ownership and simplify corporate governance, a process began in which Industrivärden reduced the number of industrial companies it held through sales and mergers. When the process was over, Inductus was dissolved, and three remaining industrial companies became wholly-owned subsidiaries of Industrivärden. In 1997, one of the remaining industrial companies was sold, along with real estate company Fundament.
At the end of the period, after sales and acquisitions, eleven portfolio companies had been reduced to seven.
The 2000s: Continued refinement and developed shareholder strategy
There was a general increase in competition with continued globalization and the capital market trends in the new millennium. The Swedish investment companies focused their operations to a greater extent on areas in which their real strengths lay. The global financial crisis in 2007, which started with the collapse of the US mortgage market, made their work no easier. The increasing pace of change in the business environment meant that companies like Industrivärden needed to boost activity in their companies and as shareholders.
Industrivärden therefore further refined its operations at the start of the millennium towards even more active ownership in a transparent portfolio of large and medium-sized Nordic listed companies. There was an emphasis on long-termism, and the methods of shareholder involvement were refined.
At the start of the 2000s, Industrivärden's equities portfolio consisted of large shareholdings in six listed companies (Ericsson, Sandvik, Skanska, Handelsbanken, SSAB and SCA), a medium-term equities portfolio (including Skandia and Lundbeck A/S), two remaining wholly-owned industrial companies (Besam and Isaberg Rapid) and the industrial trading company Indutrade.
In 2001, Anders Nyrén became the new CEO, with the task of refining the portfolio and turning Industrivärden into a dedicated investment company. In 2002, Tom Hedelius became Chairman after having been on the Board of Industrivärden since 1991. Hedelius was succeeded in 2010 by Sverker Martin-Löf, who was on the Board in 1996-1997 and from 2002.
In the first half of the 2000s, Industrivärden's medium-term portfolio of listed companies, in which insurance company Skandia was by far the biggest holding, was wound up. Skandia became a holding in 1967, but the position had been dramatically increased since the 1990s and had grown strongly in value. At the end of the 2000s, Industrivärden was Skandia's second largest shareholder. As Industrivärden primarily saw the shares as a liquidity investment, it had not tried to join the Board, and during Skandia's difficult years in the early 2000s, it discovered that the company's governance was poor. The holding was sold in the end for a significant loss.
Industrivärden had also built up a position in Danish pharmaceutical company Lundbeck, which was also sold, although with a significant gain this time. The two remaining industrial companies (Besam and Isaberg Rapid) were also sold for a good profit. In the mid-2000s, Industrivärden increased its shareholdings in Handelsbanken and Sandvik, and started to build up a large shareholding in Volvo, which thus returned to the portfolio after having been there previously for twenty years from 1968. At the end of 2005, Industrivärden decided to list Indutrade but remained the biggest shareholder.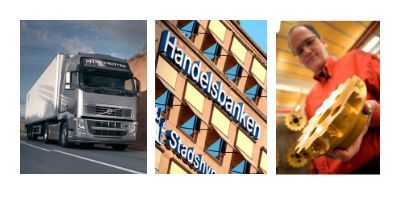 During the decade, significant investments were also made in medium-sized listed companies Össur (medical devices), Munters (air handling) and Höganäs (metal powder), all of which were very good investments. Industrivärden also participated in new share issues in Ericsson and SSAB. These new share issues meant that Ericsson could be saved in a difficult market situation, and SSAB was able to enhance its position in high-strength steel through the acquisition of US company IPSCO.
In the first half of the decade, Industrivärden built up short trading operations focusing on derivative transactions. These operations were wound up in the second half of the 2010s.
2010-2015: Portfolio changes and higher borrowing
Industrivärden entered the 2010s with a transparent portfolio of listed companies. The refinement process begun at the turn of the millennium had been completed, and the company could focus fully on its portfolio companies.
Industrivärden acquired additional stock in Volvo and became the company's single largest shareholder in 2012. In 2013, the company sold its remaining shareholding in Indutrade. In the same year, Industrivärden acquired 10% of the capital in ICA Gruppen. The shares were acquired from ICA-handlarnas Förbund in connection with Hakon Invest buying Dutch company Ahold's holding in ICA and changing the name to ICA Gruppen, followed by listing. Industrivärden thus became a new large shareholder in the leading retail company in the Nordic region.
To finance the new investments and refinance loans, two convertible loans and one exchangeable loan against underlying shares in ICA Gruppen, were issued. The first convertible loan was converted into newly issued Industrivärden stock, while the other loan was mainly redeemed in cash. Industrivärden's debtequities ratio during the period totaled 15-30%, which restricted the company's financial freedom of action.
2015-2019: Stronger asset management focus and greater financial flexibility
In the middle of the decade, there were several changes in Industrivärden's Board and management. Fredrik Lundberg, who had been a director since 2004, was elected Chairman in May 2015. L E Lundbergföretagen had been a shareholder of Industrivärden since 2002. Its holding had subsequently increased gradually, and L E Lundbergföretagen is now Industrivärden's principal shareholder along with foundations related to Handelsbanken. In September 2015, Helena Stjernholm became CEO of Industrivärden.
In early 2016, the Board presented a developed strategy that involved a stronger asset management focus and greater financial flexibility. The change in strategy meant that the debt-equities ratio would be lower than before, and cash flow would be positive after dividends. To make this possible, the dividend paid to shareholders was reduced in 2016. In subsequent years, the dividend was gradually increased again. The stronger financial position is deemed to be important to permit active ownership, but also to make it possible to grasp interesting business opportunities.
Several developmental steps were then taken in respect of Industrivärden's corporate governance, analysis, asset management and financial situation. Industrivärden also established a clearer, more demanding ownership role in its portfolio companies. There was a greater focus on the work of nominating committees, and a number of new directors joined the boards of portfolio companies. The short trading operations focusing on derivative transactions were wound up, and operations were focused on significant shareholdings in a limited number of companies. This work contributed to clear positive development in several portfolio companies, including Volvo and Sandvik.
In 2016, Industrivärden participated in SSAB's new share issue at a time when the steel industry was in a challenging situation. Half the shareholding in SSAB was subsequently sold for a good profit. In 2017, shares in SCA's health and hygiene division were distributed to the shareholders in a Lex Asea transaction and the new company was named Essity. In 2018, part of the holding in ICA Gruppen was sold and the foundation was laid, through an option deal, for full divestment of the holding in ICA Gruppen at mid-year 2019. The exchangeable will also be redeemed in connection with this transaction.
On the acquisition side, the shareholdings in Handelsbanken, Sandvik, Volvo and Skanska were increased. At the end of 2018, indebtedness was 7%, with considerable financial freedom of action and strong flexibility.
The future
Industrivärden's 75-year history is characterized by a pragmatic approach and a clear desire to adapt to and exploit the ever-changing challenges and opportunities in the external business environment. It is also possible to discern clear shareholder involvement in the companies it has owned, and this involvement has increased and developed over time. By making use of these abilities and employing a professional staff, the company has been able to generate significant shareholder value, well above the average for the Stockholm Stock Exchange.
The importance of large active shareholders has grown in recent decades. This is partly against the background of the changes that have occurred on the capital market, and partly on account of increasingly tough challenges in companies.
The changes in the capital market are due in part to increased globalization in which financial flows move in real time to chase returns, greater proportions of robotized trading and index funds, and new types of financial market participants. Overall, this has highlighted the need for large, responsible shareholders with a long-term approach to evaluation and shareholding. The globalization of the capital market, combined with a growing proportion of institutional investors, has also increased the need for long-term shareholders with significant holdings that can realize their ambitions as shareholders in different situations and develop companies, thus generating shareholder value over time.
Many companies now encounter a more complex external business environment, increased competition and increasingly tough challenges. These range from variable macroeconomic conditions on the companies' geographical markets to new threats and opportunities emerging from revolutionary, tightly interwoven megatrends. These trends may include urbanization, digitalization, complex value chains, changes in customer behavior and greater demand for sustainable business models. This drives companies to focus their operations on the areas in which their strengths lie, and also to be agile and flexible as circumstances constantly change. Greater complexity and greater demands on companies also mean greater demands on boards and the shareholders that appoint the boards. As a natural consequence of this, many active shareholders now focus their activities on having large shareholdings in more concentrated equities portfolios. This is a trend that can be discerned in European investment companies, for example. Industrivärden is no exception, and its equities portfolio has been concentrated while its shareholdings in several portfolio companies have been increased.
Long-term shareholders with significant knowledge about their portfolio companies are important both strategically and financially. The ability to find and attract good directors and continuously adapt the composition of boards to companies' changing needs will play an increasingly important role over time. This development generates greater opportunities for committed, knowledgeable shareholders that understand their portfolio companies and their external business environment well.
Against the background of the development described here, we believe that long-term active shareholders will play an even more important role in the future. Based on Industrivärden's well-developed positions of strength and proven ability to change, there is every reason to have confidence in the future.